Tissot is named Official Timekeeper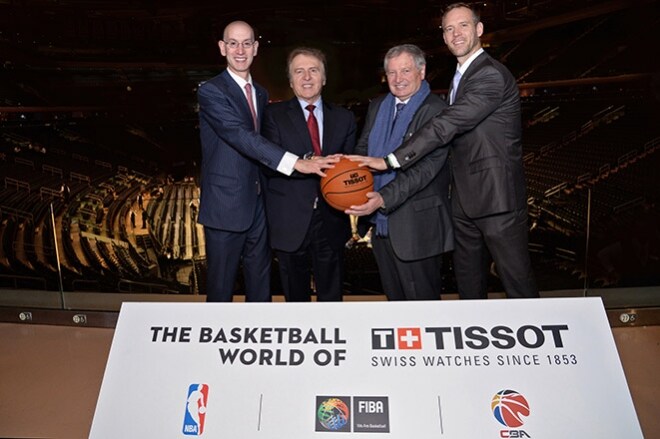 Tissot is named Official Timekeeper and Official Watch of the Chinese Basketball Association (CBA)
Le Locle, Switzerland, November 11, 2015. The exclusive marketing partner of China's CBA Professional Basketball League, Infront Sports & Media, has announced that Tissot, the renowned Swiss watch brand, has been chosen as Official Timekeeper of the CBA League. The long-term agreement between CBA and Tissot starts now and will go on for the next five years, covering all games of the CBA League, including the play-offs and the hugely successful annual CBA All Star Game.
Basketball is the most popular televised sport in China, with every CBA League game shown with as many as 417 games between November and April. At the end of last season, the games totalled 1,015 hours of live signals, 41 editions of Daily Summaries totalling 20.5 hours of programmes. The last match alone reached an audience of 191 million television viewers in china. This in mind, it was essential that they find a reliable partner to ensure precision timing at the highest level. 
Tissot's experience was therefore a valuable asset for obtaining that role. It already has a major presence in the world of Basketball, as Official Timekeeper of both the International Basketball Federation (FIBA) and more recently of the National Basketball Association (NBA). Partnering with the CBA was the logical next step for the brand. The expertise it has gained, timing basketball games over the years, will now benefit the CBA. Tissot will be implementing a new shot clock, which is one of the most essential features of the game and, as Official Watch, will be creating a new collection dedicated to the League and their teams, portraying their spirit.
Francois Thiebaud, Tissot President, said: «We are a global brand that is aiming for a global partnership in the world of basketball. CBA is therefore the ideal partner for us. Additionally, China is a key market for Tissot and, as such, it was only natural for us to partner with the most popular television sport in China. Offering timekeeping services and exclusively designed watches will also give our customers and partners in the region an additional reason to be proud of their commitment to Tissot.»
«We are delighted to welcome back Tissot as Official Timekeeper and sponsor of the CBA League. Tissot is a top international watch brand with a strong tradition in sports sponsorship. With the long-term commitment to the CBA League, Tissot builds on the league's professional development and its potential for effective sponsorship activation», says Infront's President & CEO Philippe Blatter. «Time measurement is essential to the game of basketball and as Official Timekeeper, Tissot will be in a key role and strongly benefit from the growing popularity of basketball in China.»