GRI disclosures 103–2, 103–3
Employees, diversity and equal opportunities
Swatch Group is a multinational company with over 30,000 employees worldwide and its own subsidiaries in around 40 countries. It sells its products in more than 160 countries and has a global customer base. Its employees come from a broad range of countries, belong to different ethnic groups and religions and have different sexual orientations and social statuses. Each business entity contains an intercultural mix of people with a wide variety of backgrounds, education levels, skills and talents. Embracing this diversity and integrating it into the larger Swatch Group family as a whole is essential to the success of the company.
Respect, fairness and equal treatment are the fundamental principles within the workforce and are key factors in the success of Swatch Group's matrix organization. Openness and transparency of information are also encouraged throughout the Group. Employees and stakeholders know that the Group invests in job security and employee health and wellbeing, even in times of crisis.
After a complicated year in 2020 due to various factors, 2021 was characterized by the employees' and the organization's ability to adapt to a "new normal", including complying with the necessary hygiene measures. Thanks to the increased productivity of its companies, Swatch Group was able to respond pragmatically and efficiently to the rise in demand. The Group has the talent and expertise of its workforce to thank for this.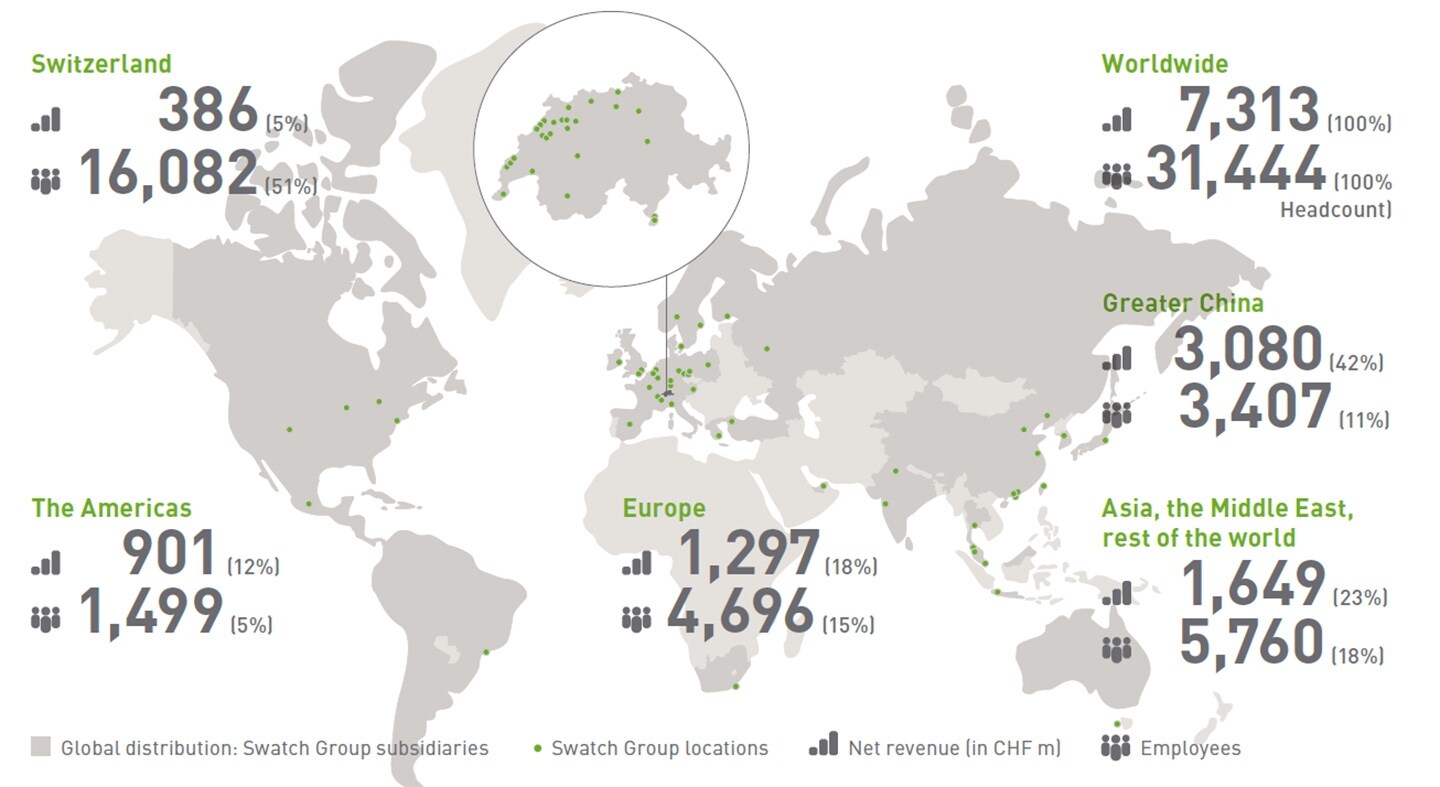 Diversity
Swatch Group is committed to promoting diversity among its employees and, in particular, to increasing the proportion of women in management positions. At the end of 2021, the proportion of women in the total workforce was around 50% and 37% in management positions, with a disproportionately high number in lower management. As management positions are primarily recruited internally, the conditions are set to sustainably increase the proportion of women in senior management positions in the long term.
GRI disclosure 405–2
Equal pay
67% of the workforce is covered by equal pay analyses (Switzerland: 98%, international: 34%). A group-wide analysis of unexplained gender pay gaps is in progress. The results will be published in the coming years.
GRI disclosure 405–1
Diversity in controlling bodies and the workforce
Head count
< 30
years old
30–50
years old
> 50
years old
Women
Men
Board of Directors
0
1
5
2
4
6
In %
0%
17%
83%
33%
66%
Executive Group
Management Board
0
1
8
1
8
9
In %
0%
11%
89%
11%
89%
Senior management 1
1
310
199
124
386
510
In %
0%
61%
39%
24%
76%
2%
Middle management 2
44
1,009
362
502
913
1,415
In %
3%
71%
26%
35%
65%
4%
Lower management 3
168
2,278
730
1,261
1,915
3,176
In %
5%
72%
23%
40%
60%
10%
Total management
1,887
3,214
5,101
In %
37%
63%
Without
management role
5,005
16,096
5,242
13,910
12,433
26,343
In %
19%
61%
20%
53%
47%
84%
Total 2021
5,218
19,692
6,534
15,797
15,647
31,444
In %
17%
62%
21%
50%
50%
100%
1. Country CEO/manager and executive management.
2. All management staff reporting directly to senior management.
3. All other management staff (with at least one reporting employee).
Value as at 12/31/2021.
GRI disclosures 103-2, 103-3, 403-1
Occupational health and safety
The health and safety of the Group's employees and customers worldwide, along with the surroundings, receive the fullest attention. The Group's guidelines for both direct and indirect sourcing, production, distribution and use of its products comply not only with the strictest international laws and guidelines (including guidelines of the International Labor Organization, SA 8000, local labor laws, etc.), but also with the Group's own more stringent standards, which are continuously expanded and improved.
GRI disclosure 403-2
Hazard identification
Software for managing hazardous substances
Swatch Group continues to use software for managing safety data sheets internally, which enables the information contained in these documents to be processed digitally. This approach is aimed at providing chemical safety data to all employees in a simple and modern way. It also simplifies quality assurance of the materials used to meet increasingly stringent regulatory requirements. In particular, the software enables the creation of labels to identify chemicals in factories, the creation of workplace cards with the instructions to be followed regarding specific chemicals, and the creation of up-to-date inventories of all chemicals used and their hazard classifications.
GRI disclosure 403-4
Involvement of employees
Employees are required to report all safety issues within the company that come to their attention. This conduct is supported by Swatch Group and is part of its safety culture. The CP by the Arbeitgeberverband der Schweizer Uhrenindustrie provides guidance and support to companies in the area of health and safety in the workplace. The CLA of the Swiss watch and microtechnology industry also underpins health and safety in the workplace.
GRI disclosure 403-5
Employee training
Regular training courses and seminars are organized and held on topics such as quality, safety in the workplace, handling hazardous substances, fire protection, protection against non-occupational accidents and protection against harassment. The safety officers in the individual Group companies and other relevant persons in the Group receive regular training, which also involves external private
and governmental specialist organizations. There is also an exchange of best practices between Swatch Group companies. Two to three additional safety days are held annually under the direction of the Group's OH&S Manager and the safety officers in order to provide training and education for employees.
GRI disclosures 103–2, 103–3, 404–2
Training and education
Employee development, from apprenticeships and training to advanced qualifications for the management level
Staff are employed in a wide range of professions, at all skill levels. For example, the role of a watchmaker alone offers various job profiles, from watchmakers with a Swiss Federal Vocational Education and Training (VET) Diploma to specialized watchmakers for intricate work (highly complicated movements) or highly specialized restoration work.
As a fully vertically integrated company, Swatch Group encompasses a wide range of skills and capabilities: from product design and development to the manufacture of individual parts and movements, the finished watch, and, finally, marketing, customer support and after-sales service. In the area of manufacturing alone, a wide range of specialists are employed, such as mechanics, precision engineers, goldsmiths, rolling mill experts, polishers, engravers, assemblers, miniature painters, gemologists, metallurgists, process engineers, chemists, physicists, laboratory experts, surface coating experts, numerical simulation experts, microelectricians, electricians, engineers of all kinds, and even more. On the marketing side, there are not only highly specialized sales and customer service staff, but also back-office staff, from marketing to logistics, finance, legal, controlling and IT specialists for all automated processes across industrial integration and all brands. From watchmakers to chefs in employee restaurants, there are over 200 different professions within the Group.