Compared to other industries, the watchmaking industry has low Scope 1 and 2 greenhouse gas emissions. Nevertheless, Swatch Group is working hard to further reduce the emissions and bring them to zero.
Swatch Group is aware that most of the indirect emissions are in Scope 3. The group does not yet have precise data on the Scope 3 emissions. A concrete action plan and intermediate targets can therefore not yet be drawn up for Scope 3.
Swatch Group commits to climate neutrality for Scope 1 and 2 by 2050 and to reduce the Scope 3 emissions to a minimum.
The aim of Swatch Group is to reduce the greenhouse gas emissions as much as possible and use solutions within Swatch Group (for example future carbon capture technologies) to achieve the targets for Scope 1 and 2.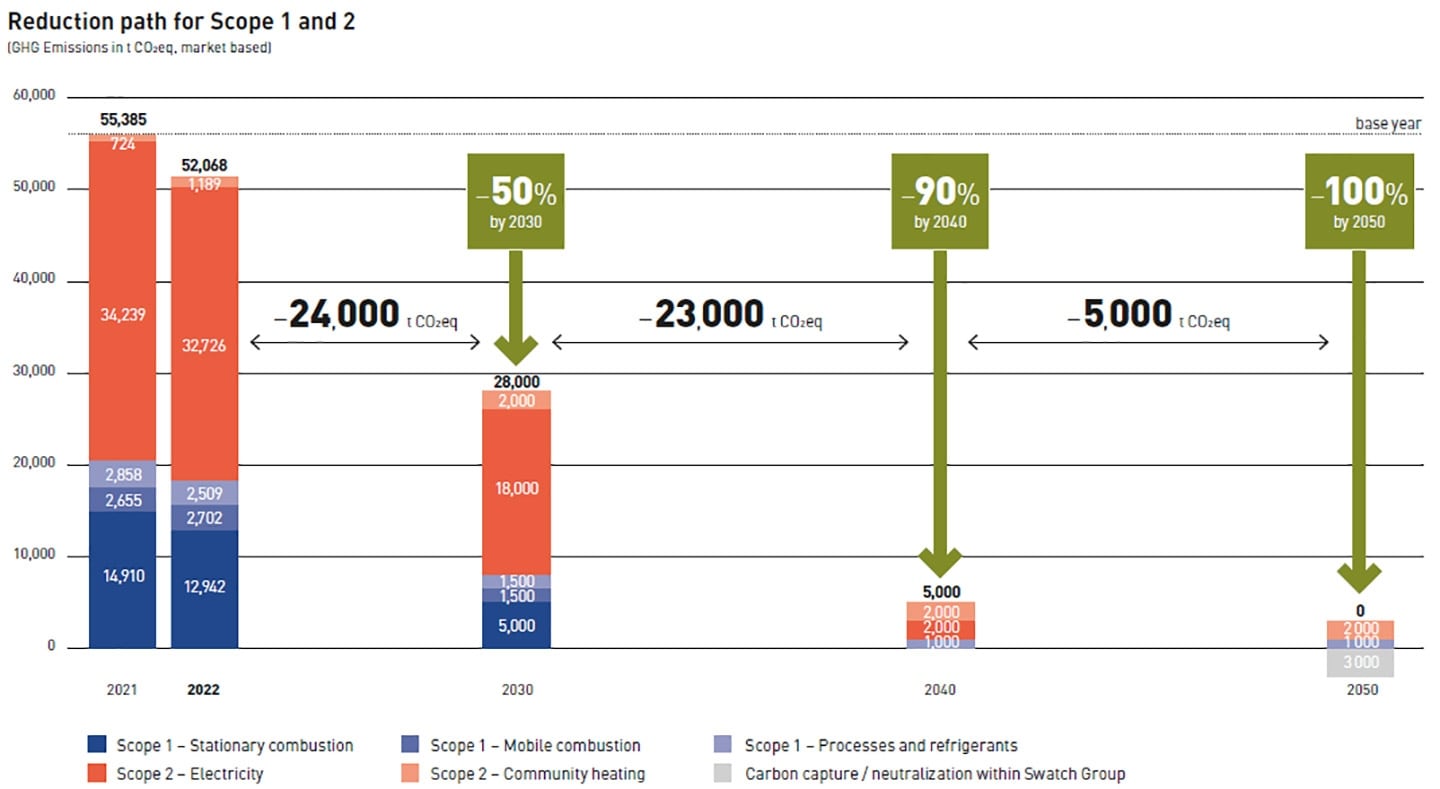 Greenhouse gas reduction targets and measures
Scope 1
Target
Measures
Stationary combustion

Reduce stationary emissions to 35% by 2030 and to 0 by 2040.

With the already planned projects for the next 10 years, the stationary combustion emissions can be reduced by 90%. Ideas and concepts exist to reduce the remaining emissions as well.

Mobile combustion

Reduce mobile emissions to 50% by 2030 and to 0 by 2040.

New cars and trucks to be non-fossil fuel vehicles. Exceptions must be justified.

Processes &
refrigerants

Reduce emissions from refrigerants to 50% by 2030 and to 0 by 2040.
Reduce process emissions to 50% by 2030.

Replace cooling systems with GHG free refrigerants.
Reduce process emissions by using alternative technologies or by recovering/transforming the emissions.
Revaluate feasibility of further reductions on a yearly basis.
Carbon capture / neutralization of remaining emissions within Swatch Group.

Scope 2
Target
Measures
Electricity

Reduce emissions from electricity to 50% by 2030, to 5% by 2040 and to 0 by 2050.

Increase own renewable electricity production.
Procurement of renewable electricity through a mix of financing of renewable projects, prioritizing bundled certificates, PPAs and as last resort GoOs certificates.
Increase process and buildings energy efficiency.

Community
heating

No target. Community heating emissions considered doubling in the coming years due to more facilities switching to community heating.

Carbon capture / neutralization of remaining emissions within Swatch Group.

Scope 3
Target
Measures

Data for Scope 3 not yet complete. Targets and roadmap will be ready by end of 2023.

Requiring the suppliers to commit to a near term target and for carbon intensive sectors to a long term net zero target.
Introduce carbon intensity criteria in supplier selection process.
Replacing carbon intensive material by low carbon alternatives.
GRI disclosure 201–2
Climate-related risks and opportunities - Strategy
Swatch Group needs to tackle transition risks in the short-to-medium term. These risks can vary greatly depending on their nature and the speed with which different states deliver on the aims of the Paris Agreement. Switching to low-carbon models may cause operational and procurement costs to rise. Physical risks could present a greater risk to the procurement of raw materials in the long term.
Swatch Group is extensively verticalized, it has a strong positioning in research and development, most of its supply chain is located in Switzerland, and it has a management approach for climate-related risks, making the company well placed to adapt to different climate scenarios, including the 1.5°C baseline scenario and the 2°C scenario.
A detailed overview of the climate-related risks and opportunities can be found on the pages 48-52 in the 2022 Sustainability Report. Details on the energy consumption as well as the greenhouse gas emissions can be found on the pages 59-70.