Swatch Group: Key Figures 2017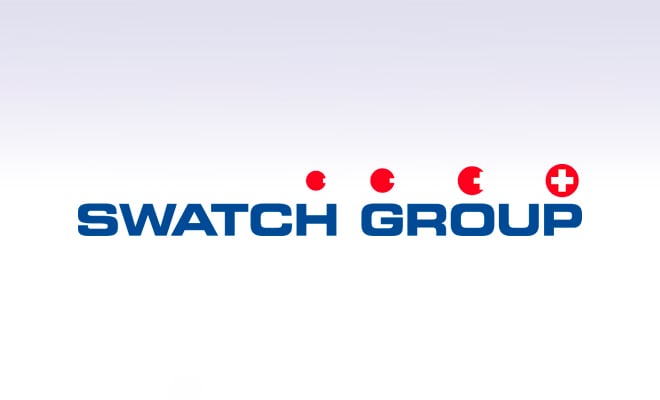 Group net sales increased 5.8% to CHF 7 989 million at constant exchange rates, and +5.4% to CHF 7 960 million at current exchange rates.
Sales growth of 7.3% in the Watches & Jewelry segment (excluding Production) at constant exchange rates and 6.9% at current exchange rates. 
Strong acceleration of 12.2% at current exchange rates in the second half of the year and in the 4th quarter even 14.9% in the Watches & Jewelry segment (excluding Production).
December recorded the second best monthly sales in the history of Swatch Group.
Dynamic growth in all price segments, with the strongest increase in the prestige and luxury segment.
Extraordinary performance of Harry Winston and a very strong acceleration of Omega in the second half of the year.
The basic and middle range price segment, with Flik Flak, Swatch, Calvin Klein, Hamilton, Mido and Tissot, recorded good growth in value, in the second half of the year, as well as in volumes.
Growth in all regions, the strongest of which was Asia / Pacific, in both wholesale and retail.
Operating margin in the Watches & Jewelry Segment (excluding Production) increased 27.4%, from 12.8% to 15.3% of net sales, despite a negative currency impact.
Overall operating result improved by 24.5% to CHF 1 002 million, and was even up by almost 40% in the second half of the year. Operating margin grew from 10.7% in the previous year to 12.6%.
Net income increased 27.3% to CHF 755 million, with a net margin of 9.5% (previous year: 7.9%).
Dividend proposal up by 11.1% to CHF 7.50 per bearer share (previous year: CHF 6.75) and CHF 1.50 per registered share (previous year: CHF 1.35), back to the level of 2015.
Good start into the new year in all segments. Positive outlook for 2018, with numerous new product launches and very good capacity utilization in production, which will further profit from higher volumes.
Outlook for 2018
The Swatch Group anticipates further very positive growth in local currencies in 2018, not only from its own distribution channels such as retail and e-commerce, but also from third-party channels. In addition, further growth will utilize the 
 capacities of all production areas.
Once again, Omega, as official timekeeper of the XXIII Winter Games from 9 to 25 February in PyeongChang, South Korea, will deliver daily results and all the athletes' data, and therefore be present in all the media. In addition, Omega will present on site the Seamaster Collection limited series PyongChang 2018 dedicated to the Games. Omega will also celebrate the 70th anniversary of the Seamaster and the 25th anniversary of the Seamaster Diver 300m in 2018, and will market special editions of the collections for these occasions. After the successful launch of the new "Trésor pour femme" collection in Japan and the USA in December, worldwide market introduction will take place in the first half of 2018.
Blancpain, with its Fifty Fathoms collection and the Blancpain Ocean Commitment, and Breguet, with its new Marine Collection, will cause a sensation and generate further sales growth. The Harry Winston brand further strengthens its market presence with the opening of new sales salons on Rodeo Drive in Beverly Hills, San Francisco, Istanbul, and Zürich, as well as an additional flagship store in Hong Kong Central.
Rado will strengthen its worldwide leadership position in ceramics with the launch of new collections with innovative materials and surface structures. Longines, with its Conquest V.H.P. collection (Very High Precision, extremely precise quartz movement with practically infinite calendar), will not only increase its market presence, but is also well on its way to achieving sales of CHF 2 billion in the medium term. Longines will also be the official timekeeper of important sporting events such as the Commonwealth Games in Australia and the world equestrian and show jumping championships in the USA.
Tissot, one of the exclusive Swiss brands with over CHF 1 billion in sales, will once again be the official sponsor and timekeeper for the Tour de France. The brand will introduce the new Tissot T-Race Cycling, and in doing so, will broaden the already well-known Tissot T-Sport Collection of timepieces which includes the Chrono XL NBA, the North American pro-fessional basketball league, and the MotoGP. In addition, the Tissot Chemin des Tourelles GMT, with a Powermatic 80 GMT watch movement with 80 hours power reserve and two time zones, will be launched. Tissot will also further expand its very close and successful partnership with Tmall in China.
Swatch and Tmall held a unique "Swatch Tmall Super Brand Day" on 12 January 2018 at the Swatch Art Peace Hotel in Shanghai, with a combination of on- and offline activities centered on the Swatch brand. Live streaming of this event was followed by over 24 million Tmall users. Karry Wang, as a new Swatch ambassador, also took part in this event. As a singer and actor, Karry Wang is a star and idol for the young generation in China. The special Swatch model which he wore was sold out within hours. In addition, a great many fans immediately crowded the Boutiques.
In the Electronic Systems segment, demand is currently growing rapidly, thanks to groundbreaking developments, which naturally have been patented. Examples are the so-called miniature watch module, which enables production of ultra-precise quartz watch movements with  an accuracy 30 times better than previous quartz movements, and the new real-time clock (RTC), which is used to optimize charging cycles for the battery management system in all batteries for hybrid and electric vehicles. Last but not least, a unique interface circuit for accelerometers was developed, which is used for drones, fitness trackers, mobile phones and other electronic devices.
Swatch Group, with its global presence and its unique and diverse distribution channels, including online, will continue to generate very dynamic growth in local currency in 2018. The very good start in January confirms sustained consumption in most regions and countries, not only in the prestige and luxury sector, but also in the basic price segments.