EM|echo-V receives "Best new product" award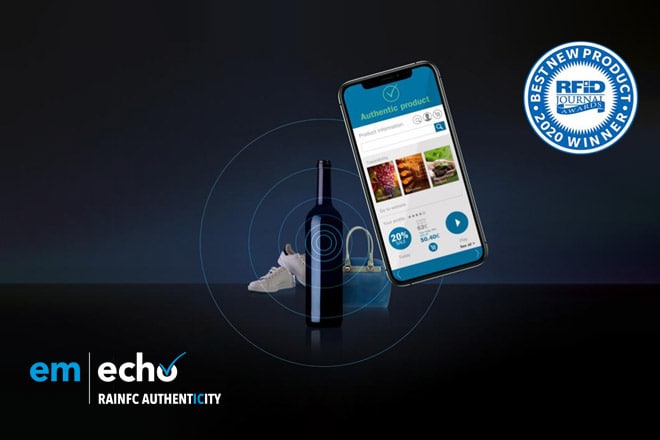 Swatch Group's EM Microelectronic em|echo-V holistic omnichannel RAINFC solution receives prestigious industry award
An RFID industry pioneer
EM Microelectronic, the ultra-low-power semiconductor company of the Swatch Group, has pioneered the RFID industry for over 30 years. Numerous EM products paved the way for new industry segments and durably changed the business landscape.
Over the past decade, world's retailers have been massively adopting the RAIN RFID technology to replace the barcodes with electronic labels for streamlining their operations. Market studies indicate retailers use more than 15 billion RAIN RFID tags per year.
What is less known, is that EM was the first chip manufacturer to massively deploy UHF RFID chips into retail applications, starting back in 2003 in cooperation with Avery Dennison for Marks & Spencer.
The B2B vs. B2C conundrum
In parallel with the staggering RAIN RFID adoption by retailers for managing their operations (B2B environment), the NFC technology also displayed a massive development, with most of the world's smartphones today being equipped with the ability to read NFC tags (B2C usage). This functionality has been tremendously successful in applications such as contactless payment and has been enthusiastically embraced by consumers worldwide.
In a context where brands and retailers are poised to innovate to move from a brick-and-mortar model to an omnichannel one, the ability to reach the end consumer is key, while enabling smooth supply chain operations. How to solve this conundrum, when the two aspects rely on different technologies?
The B2B2C answer: RAINFC
Building on its 30 years innovation legacy, EM's RAINFC concept removes the chasm between these two worlds by merging RAIN RFID and NFC into one single chip, enabling both the B2B and B2C models in one.
Thanks to this concept, brands and retailers now have the possibility not only to manage their supply chain operations in an omnichannel environment, but also to interact with their end-customers via a simple smartphone tap. This essential missing link also allows for a full back-to-back product and channel authentication, including for the returns and secondary market.
The item in the physical world is now solidly associated with its digital twin, stored in the blockchain, all implemented in such a way as to increase the privacy protection for the end user.
An award-winning concept
In recognition for this outstanding game changer, RFID Journal has honored em|echo-V with its prestigious "Best new product" award, at an event that reunited the whole industry virtually.
This consecration endorses EM's efforts as part of the Swatch Group Innovation Powerhouse to break new grounds in technology, not only adapting to the 21st century trends, but also actually shaping them.
Designed and produced in Switzerland, em|echo-V is the perfect illustration of the Swatch Group's technology and innovation DNA.