Swatch Group production sites
Omega production facility in Biel / Bienne
Signalling the next chapter in its renowned history of innovation and manufacturing excellence, OMEGA has opened its newest production building at the brand's HQ site in Bienne in November 2017.
All steps, including T2 (watch assembly), T3 (bracelets), and T4 (shipping), as well as stock and logistics, will now be completed inside the new building. In addition to this, it has been designed for training purposes, enabling OMEGA to sharpen and constantly improve the skills of the staff inside. At the core of the building, OMEGA has installed a fully automated storage system that rises up through 3 floors of the building. Like something from a science-fiction movie, the fireproofed system contains over 30,000 boxes filled with all the necessary stock required for the brand's watchmaking.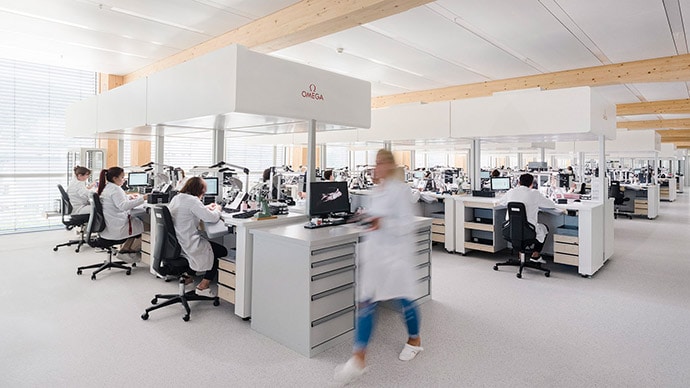 Omega assembly unit in Villeret, Switzerland
In 2015, Omega inaugurated its state-of-the art factory and tech space in Villeret, Switzerland where it produces the exclusive timepieces and revolutionary Master Chronometer calibers that set the industry's standard for precision, performance and magnetic resistance. www.omegawatches.com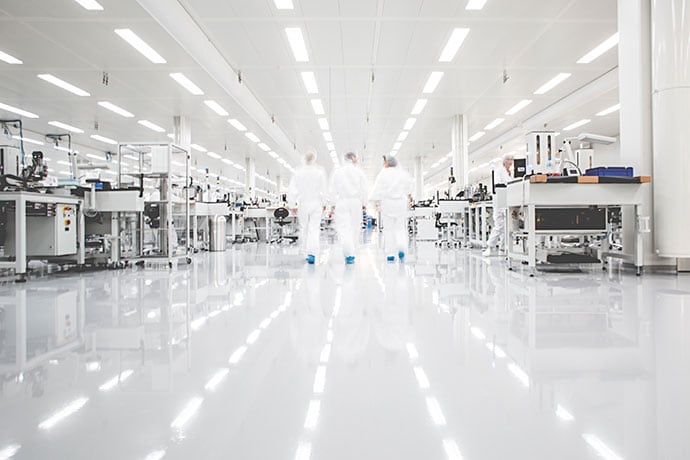 EM Microelectronic (Marin, Switzerland; Colorado Springs, Colorado, USA; Prague, Czech Republic) 
EM Microelectronic has 41 years' experience in the design of ICs that process analog and digital signals simultaneously. EM Microelectronic's product portfolio encompasses RFID circuits, smart card ICs, ultra-low power microcontrollers, power management, LCD drivers and displays, sensor and optoelectronic ICs, mixed-mode arrays and standard analog ICs. The company manufactures not only standard circuits and ASICs, but also system solutions and modules for applications such as access control, radio frequency identification, mobile phones, mass-market consumer appliances, alarm and security systems, utility and heating meters, sensor signal processing, controlling, car immobilization, electronic automotive subsystems among many others. www.emmicroelectronic.com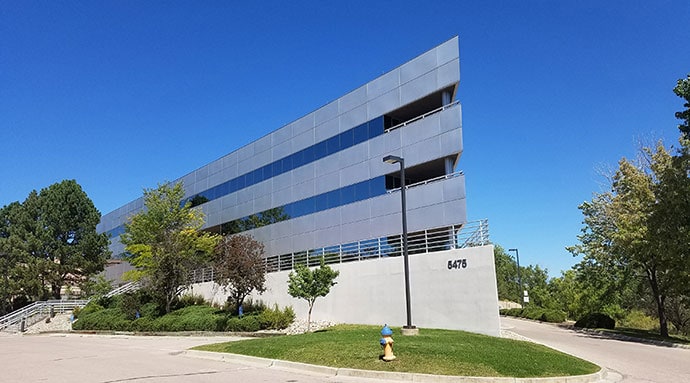 ETA SA Manufacture Horlogère Suisse (Sion, Switzerland; Grenchen, Switzerland; Boncourt, Switzerland)
Its 20 production sites, located in the foothills of Jura and the Swiss cantons of Valais and Ticino, combine the company's full expertise in the production and assembly of movements and watches that have established themselves as global benchmarks for their reliability and performance. www.eta.ch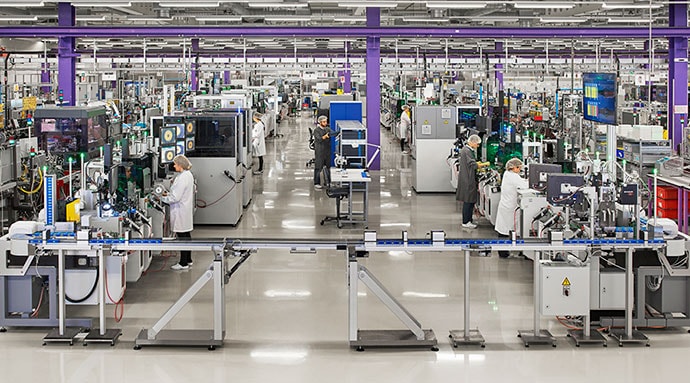 Renata (Itingen, Switzerland)
Renata SA was founded in 1952 as a manufacturer of components for mechanical watches. Within only a few years, the company became a leading manufacturer and supplier of coin cells for watches and numerous electronic product areas (medical technology, RFID, radio control, metering, and many others). The modern production plant in Itingen, where all services (research and development, production, quality assurance and marketing) are grouped, is highly automated and produces over one million batteries a day. www.renata.com
Nivarox-FAR S.A. (Le Locle, Switzerland)
Nivarox-FAR is the leading Swiss specialist in the production of oscillating and escapement parts. The four manufacturing plants of Nivarox-FAR are located in the heart of Switzerland´s watchmaking district in the Jura Mountains. Nivarox-FAR puts advanced design and technology to work to produce components that are central to some of the world´s most prestigious mechanical watches, and specializes in escapement parts, rubies to lift the pallets and ruby impulse-pins, oscillating parts, turning parts of very small dimensions, micro-stamping components and electro-erosion. www.nivarox.co
Micro Crystal (Grenchen, Switzerland)
Micro Crystal, founded in 1978, is a major player in the quartz crystal, real-time clock and oscillator industries. The company – a leader in these fields – uses high-tech Swiss MEMS technology for the ultra-high precision manufacturing of quartz crystal resonators, oscillators and real-time clock modules. Focused on the mass production of high-quality components, Micro Crystal serves not only high volume consumer applications, like smartphones, wireless, watches and industrial devices, but also highly-reliable automotive and medical implant applications. Using its manufacturing facilities in Switzerland and Thailand, Micro Crystal produces the smallest quartz crystal resonators, oscillators and real-time clock modules. Micro Crystal's products, which achieve the world's lowest power consumption, are perfectly suited for the IoT, wearables and Industry 4.0 applications. The company offers cost-competitive products using its worldwide operation, distribution and support networks. www.microcrystal.com