Omega and the Swiss Federal Institute of Metrology (METAS)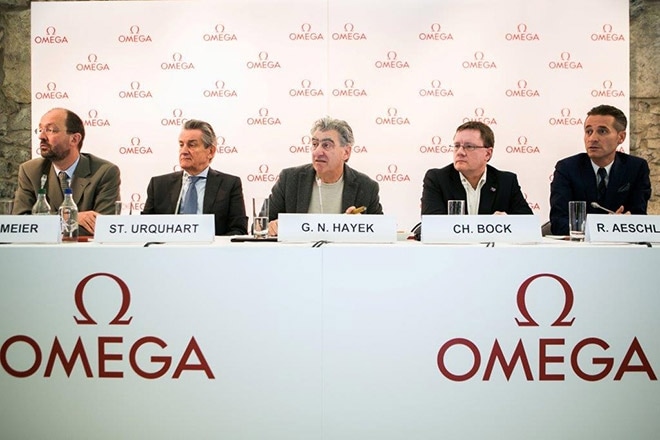 Announcement of a watch certification based on a new quality standard for the Swiss watchmaking industry
Omega Master Co-Axial wristwatches
In 2013 Omega introduced a mechanical watch movement resistant to magnetic fields greater than 15,000 gauss. The great majority of watches previously described as «anti-magnetic» could resist magnetic fields to a maximum of 1,000 gauss. They were generally produced with special case concepts including a soft iron shield in order to protect the movement.    
Omega's approach was completely different: a silicon balance spring was the first important step. Working with Swatch Group partner companies such as Asulab, Nivarox-Far and ETA, Omega developed a revolutionary movement whose staffs and pivot points of the regulating organ are produced with Nivagauss and the plates of the Co-Axial escapement are manufactured with the LIGA technology. Moreover, the springs of the shock absorbers are made from an amorphous material. All these advanced materials have the properties to be non-magnetic and long-lasting.
This year, the Omega Master Co-Axial watches were launched, featuring the ground-breaking anti-magnetic technology as well as outstanding chronometric performance and water resistance.
Master Co-Axial Officially Certified: a new quality standard
It became increasingly clear to Omega that existing certifications and norms were not equal to the quality and the performance of these watches. It was time for a new, fully-independent certification. The brand turned to METAS, an Institute of the Swiss Federal Government, with the idea of establishing a new norm with this Official Certification for high-quality Swiss watches.
What is METAS?
METAS, the Swiss Federal Institute for Metrology, realises and disseminates internationally harmonised and recognised units of measurement. It also supervises the application of measuring instruments in the fields of commerce, traffic, public safety, health and environment. 
Master Co-Axial Officially Certified
METAS and Omega are working together to establish a new norm for mechanical watches.
Each Omega Master Co-Axial watch given the Officially Certified distinction will be tested for:
the function of each movement when exposed to magnetic fields greater than 15,000 gauss
the function of each watch when exposed to magnetic fields greater than 15,000 gauss
average daily precision (different positions and temperatures) between 0 and +5 sec/day before and after exposure to magnetic fields greater than 15,000 gauss
autonomy (power reserve) determined in hours by the watch model
water resistance (tested in water ) – in bar, determined by the watch model
METAS will offer the Official Certification to any watch that meets these criteria.