100 years as Official Timekeeper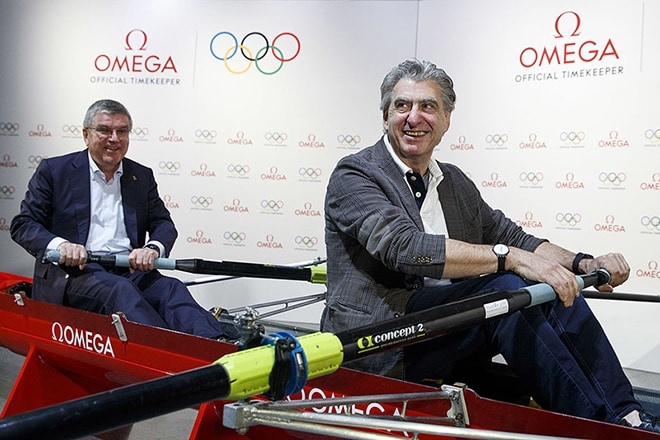 The brand has announced the extension of its global partnership with the International Olympic Committee (IOC) through to 2032
The Games of the XXXV Olympiad in 2032 will mark 100 years since the start of OMEGA's relationship with the event, which dates back to the 1932 Olympic Games in Los Angeles. In that time OMEGA has served as Official Timekeeper 27 times and has developed and introduced the most cutting-edge timekeeping equipment in the world, including the starting pistol, touchpads for swimming and the Scan 'O' Vision MYRIA photofinish camera, which made its Olympic Games debut in Rio and can capture 10,000 digital images per second.
The announcement was made at The Olympic Museum in Lausanne, Switzerland, by Nick Hayek, CEO of Swatch Group, Raynald Aeschlimann, President and CEO of OMEGA; and IOC President Thomas Bach. OMEGA is the first Worldwide Olympic Partner to commit to the Olympic Movement through to 2032.
Nick Hayek, CEO of Swatch Group, said: "The Olympic Games is one of the most emotionally stirring events in the world, with an Olympic medal as the ultimate sporting dream. Its message of unity through sport is deeply compelling for people everywhere. From whichever media platform available, people tune in and cheer for their favoured athletes. We at OMEGA are honoured, that since 1932 we have been part of creating this emotion by measuring the fractions of a second or the distances that will decide between gold, silver and bronze. We are happy and proud to continue this tradition until 2032, which will mark one hundred years of partnership between OMEGA and the Olympics."
IOC President Thomas Bach enthusiastically welcomed OMEGA's extended partnership with the IOC: "OMEGA is the world's leader in sports timekeeping, and the extension of our agreement through to 2032 means Olympic athletes will continue to be able to rely on OMEGA's expertise. 2032 is an important milestone, as it will mark 100 years since the Olympic Movement was first able to count on OMEGA's timekeeping solutions."
Tsunekazu Takeda, the IOC's Marketing Commission Chair, said: "We are delighted that OMEGA has become the first global Olympic Partner to reach an agreement through to 2032. It is also the first time in our long relationship that OMEGA extends its partnership by twelve years which underlines the strength of the Olympic Games and the IOC's commercial programmes."
The deal will continue the commitment by OMEGA to provide state-of-the-art timing, scoring, in-venue results system, equipment and broadcast graphics services, which are critical for the success of the Olympic Games.