Informaticien / Informaticienne CFC
Activités
Les informaticiens / informaticiennes CFC avec orientation développement d'applications réalisent des solutions logicielles pour des produits et / ou processus nouveaux ou modifiés. Ta tâche consiste à analyser et enregistrer les exigences du donneur d'ordre envers le programme. Après l'élaboration d'un concept détaillé, tu programmes le logiciel, tu procèdes aux tests et à la formation des utilisateurs/-trices. La documentation réalisée devra assurer le support et le perfectionnement de l'application.
Les informaticiens / informaticiennes CFC avec orientation informatique d'entreprise sont responsables de la mise en place et la maintenance de systèmes informatiques. Tu soutiens le donneur d'ordre de manière décisive dans la sélection du matériel et du logiciel approprié. Tu installes les postes de travail informatisés, les imprimantes et les serveurs. En cas de problèmes avec un PC, tu élimines le défaut et tu assures le support à l'utilisateur/-trice. Pour cela, il te faut parfaitement connaître les appareils et les applications utilisées dans l'entreprise.
Durée de la formation
4 ans
Formation préliminaire
Bon élève à l'école secondaire ou au collège
Très bons résultats dans les branches scientifiques, mathématiques et linguistiques.
Ecole professionnelle
Enseignement obligatoire et cours facultatifs
Ecole professionnelle supérieure, possibilité d'obtenir la maturité professionnelle
Formation continue
Informaticien ES (ES), informaticien Bachelor / Master HES, informaticien Bachelor (Uni)
Profil requis
Aptitude à travailler en équipe et à communiquer
Esprit logique et capacité d'abstraction
Compréhension rapide
Grande capacité de concentration
Méthode de travail systématique
Patience et persévérance
Bonnes connaissances de l'anglais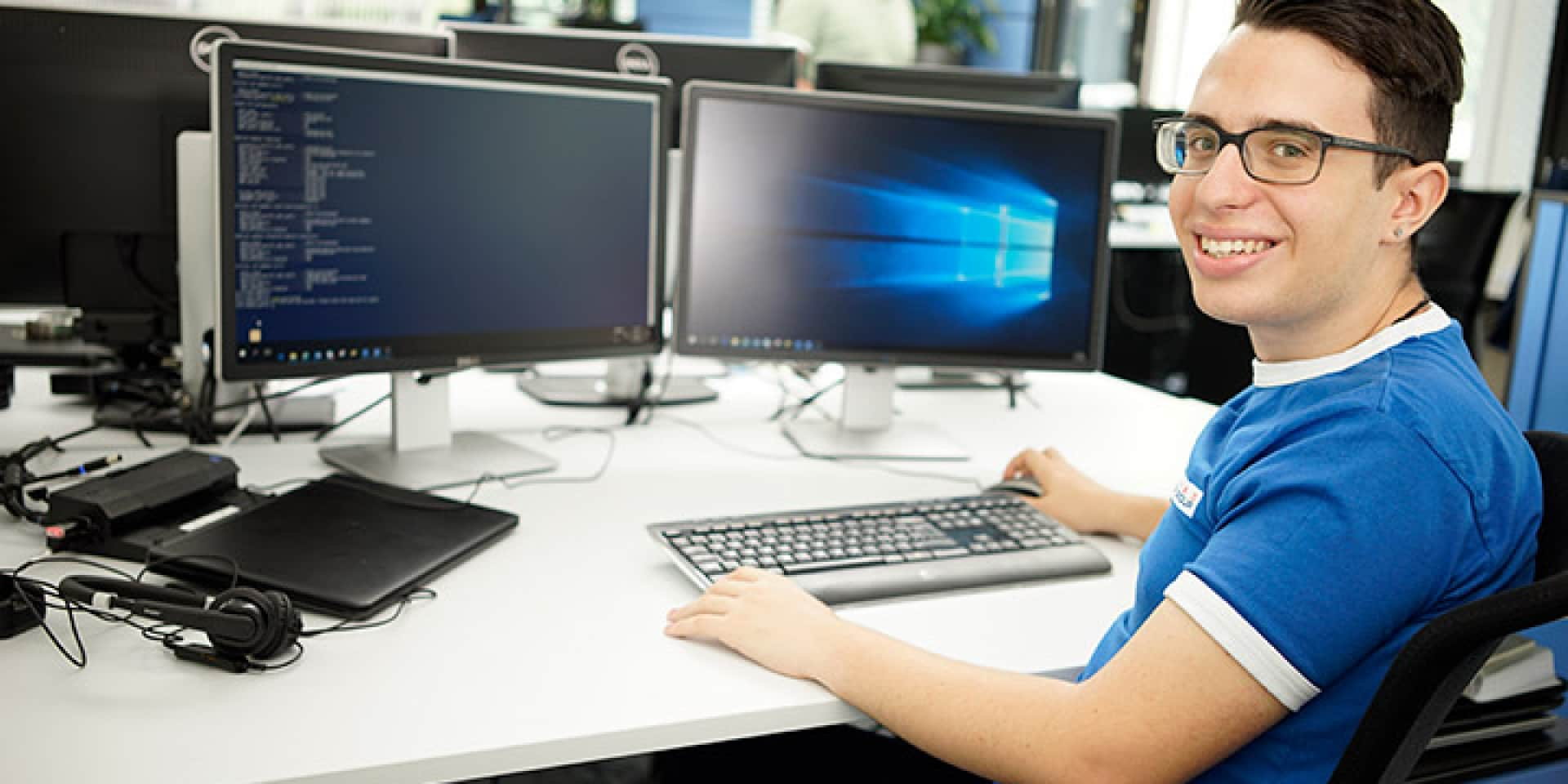 Apprenticeship places
Use our Job Search facility to find an apprenticeship place that suits you.